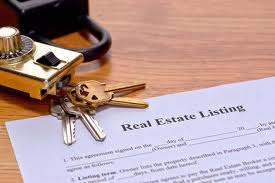 So you've decided to sell your home and have completed most of the necessary steps in preparation for the sale. Now it time to select a real estate agent to market your home to the masses in order to obtain a interested party ready and will to purchase your home at a price you think its worth or worst case, at fair market value. After selecting your agent of choice, then a listing agreement is prepared by the agent detailing the agreed upon terms such as home pricing, commissions, time duration of agreement, etc. What are different types of "listing agreements" and what do they include ?
Type of Listing Agreements
There are several different types of listing agreements, but very few of them are used. Since the "open listing", the "exclusive agency listing" and the "one-time show" are rarely used, we will focus on the
"Exclusive Right to Sell"
which is the most common used listing.
Exclusive Right to Sell
Giving a real estate agent the "exclusive right to sell" your property does not mean that there will not be other agents involved. Your agent is the listing agent and part of his or her job is to market your home to other agents who work with buyers. Those agents will show your home to their clients. Regardless of who sells the home, even if you sell it yourself to a friend at work, your listing agent will earn a commission.
An exclusive right to sell is the only type of listing an effective real estate agent will accept. This is because they have a reasonable expectation of earning back any money they spend on promoting and marketing your property.
Details of a Listing Agreement
Obviously the name of the seller and the property address will be included in the listing contract. There are many other things that are included, too, and you should be aware of them.
Price and Terms of Sale
When setting the terms of sale, the main thing you are concerned with is the price. You should have a basic idea of what your home is worth by keeping track of other sales in the neighborhood. Plus, you have probably interviewed at least two real estate agents and they have given you their own ideas. Exercise great care in determining your asking price, making sure not to set it too high or too low.
In addition to the price, you will disclose what personal property, if any, goes with the house when you sell it. Personal property is anything that is not attached or fixed to the home, such as washers, dryers, refrigerators, and so on.
There may be some item that is considered "real property" that you do not intend to include in the sale. Real property is anything that is attached to the home. For example, you may have a chandelier that has been in your family for generations and you take it from home to home when you move. Since the chandelier is attached to the house, it is considered "real property" and a reasonable buyer would normally expect it to go with the house.
Lockbox – Yes or No?
A lockbox is basically a padlock with a cavity inside where a key to your home can be placed. Only someone with an electronic key or the combination can get into the lockbox and access the key. Having a lockbox available at your house makes it easy for other agents to get access to your house.
Without the lockbox, agents representing buyers would have to set appointments to meet you or your agent at the house so they could gain access and view the home. This would be inconvenient. Since almost every other house does have a lockbox available, if you do not allow one most agents will simply not show your property. You will miss out on lots of potential buyers.
The listing agreement specifies whether you allow a lockbox or not. It is locked into place, usually on the front door and cannot be removed. Only other agents can access the key that is located within the lockbox.
Real Estate Commission
In some areas of the country there is a certain percentage that real estate agents expect to earn as a commission.This commission amount is a certain percent of the sales price. Or, some companies will charge a set fee for their services. However, just like anything else in real estate, this amount is negotiable. When completing the listing agreement, you and your agent will agree on the amount of the real estate commission.
Cut-Rate Listing Commissions
With the advent of the web, a lot of agents are offering "cut-rate" commissions. Most of the time, lower commissions are tied to a lower level of service. If you want an agent who will actively promote your property to other agents and spend money on advertising, then you probably are not going to get that level of service with a reduced commission.
Another common practice when you see an ad for a reduced commission is that the compensation is lowered when you agree to buy your next home through the same agent or broker. Usually, the reduced commission is not really being offered on the sale of your existing home but on the purchase of your next one. The ads are usually unclear on this.
As a result, when you see an offer for a lower commission, you should analyze what you are giving up by accepting such an offer. It probably will not be readily apparent in the advertisement. Be sure to ask
lots
of questions.
Multiple Listing Service
Your listing contract should specify whether or not the house will be listed with the local MLS (multiple listing service). It is definitely in your interest to have the house listed. This is because your sales force is automatically multiplied by however many agents are members of the local MLS. If your house is not listed, then you only have one agent working for you instead of many.
Agency Duties of a Listing Agent
The listing agreement will specify that your agent is acting as a "seller's agent." This means that, in the sale of your house, they are working for you and only you. However, there may be times when your listing agent has a client who wants to buy your home. For that reason, there is a little "wiggle room" in the listing agreement. If your agent also represents the buyer, the listing agreement should specify that they provide an additional disclosure that details their duties as a dual agent.
The contract also provides permission for your listing agent to act as an agent for others on other transactions. They can continue to list other properties, and represent buyers looking at other homes.
It is important to note that your real estate agent should be able and willing to explain contents of the listing agreement to insure your thorough understanding of what you are signing and agreeing to.