Mortgage rates are finally catching a break.
After rising throughout 2018, rates are down more than 10 basis points (0.10%) according to popular interest rate surveys.
Rates are falling in the wake of economic turmoil abroad, tailspinning oil prices, and market uncertainty.
But will lower rates last? The dip could be temporary considering the Federal Reserve meets again in December, and could hike rates.
Predictions for December and beyond
There is no shortage of market-moving news in December. Developments now will impact your ability to buy or refinance this month and in the remainder of the year.
Rate forecasts at the beginning of the year have pretty much come true. Most major housing and financial authorities predicted rates somewhere between 4.7% and 5.0% for 2018.
According to Freddie Mac, the average 30-year fixed rate for an ideal candidate jumped to 4.94% in mid-November. That's even higher than the 4.75% average prediction earlier this year from seven agencies like Realtor.com and the National Association of Home Builders.
The good news is that we are not very likely to see any more huge jumps for the remainder of the year if forecasts are accurate.
But, we are very likely to see a gradual increase going into January 2019, starting the year in the low 5s.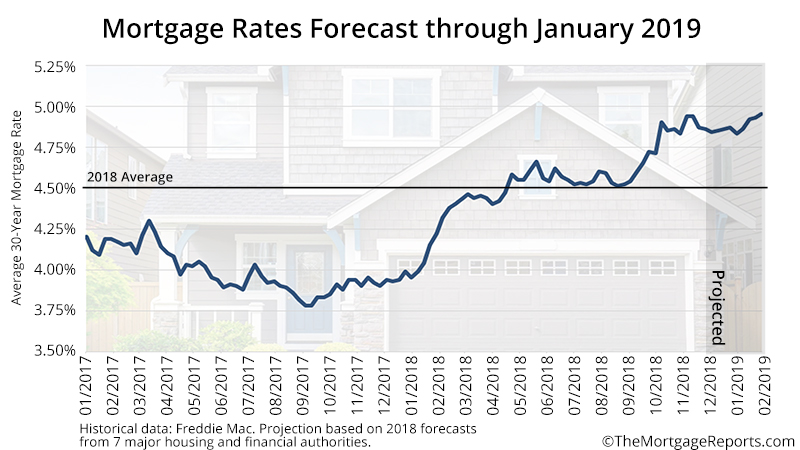 Mortgage rate trends as predicted by housing authorities
Mortgage rates have already surpassed predictions cast by major housing agencies. Now, the question is, what are these groups forecasting for the remainder of the year?

To sum it up, everyone is predicting higher rates. Today's rate might be as good as we'll see for years to come.
Mortgage rates today
While a monthly mortgage rate forecast is helpful, it's important to know that rates change daily.
You might get 4.8% today, and 4.9% tomorrow. Many factors alter the direction of current mortgage rates.
Need to sit down and discuss your mortgage rate before buying? Call us now at 949.254.5544 and we'll be more than happy to walk you through it.